All That She Wants - the Smash-Hit

It is the classical summer hit. "All that she wants", the second track released by Ace of Base is a song that you can't get out of your head once you have heard it. Relaxed rhythm, easy instrumentation and a very cheerful sing-along tune. And in addition the release date in summer 1992 and a quality that usually only a cold shower has on hot days: you can't get enough of it.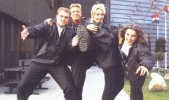 As though the three siblings Jenny, Malin and Jonas Berggren as well as their friend and partner Ulf Ekberg had been number one in the danish and norwegian hitlists, the big success came with "All that she wants".
With this lively title they easily conquered Europe. The track become number one in nearly every Eurpean country. For fans not from Scandinavia it was an sudden success as "All that she wants" was released as the first track of the band, that was already well-known in the north of Europe.



The enthusiasm that now surrounded Ace of Base was watched rather calmly by their record company: they new, in opposition to some critics here, that Ace of Base would not be a "one hit wonder". Every member of the company felt the incredible amount of ideas of Jonas Berggren and Ulf Ekberg. And the best prove was their first album "Happy Nation" - its title song was another international hit.

* Click on the pix to enlarge them