New songs and plans


Doing nothing is not something Jonas, Ulf, Malin and Jenny enjoy. Especially Jonas is always busy with new song ideas and puzzles over new hits all the time. He is a real workaholic when it comes to the career of Ace Of Base. Music is simply his life. "I spend my time at the computer as often as I can. I also have a dictating machine so I don't forget a spontaneous idea. A third of my old ideas are already forgotten, you know", he confesses. It's inconceivable how many potential hits of the pop scene got lost because of that. Fortunately, little sister Jenny recorded some of the brilliant ideas of her brother in the past. Because: "At least I learned how to note melodies. In the beginning when we were en route in Norway, Jonas often said: 'Jenny, quick, I sing something to you, write it down.'



Those problems don't exist anymore: For the second Ace-Of-Base-Album Jonas had already been pretty far in December 1993 what concerns songwriting. Moreover, he is very happy about the fact that all the members could bring themselves in on the successor Happy Nation: "We have finished twelve new songs until now. This time, we all contributed a few song, this way the songs are very personal. But we still have to sing them, produce and mix them. In the end we want to have about 20 songs at our disposal". And already then Jonas revealed: "The songs are a lot calmer. We will have many ballads on the new album. We won't have songs like Münchhausen (Just Chaos). That's too hard".

Jonas shows self-criticism: "Indeed, I like this music, but the first album was too diffused. We wanted to show everybody what we can do, but maybe we carried it a little too far." Jenny agrees with him: "Before we had our contract, everybody said that you can only do Rock music or something else, something specific. With this music, no one can do something with it, that's next to nothing. But they also told us that we would not have a chance with Rock. However, if you have success with it, it would be giantic, but that's too difficult for us."Jonas has the same opinion. The cold constructed concepts out of some studio, just like it is common with Techno nowadays, don't have a chance among the fans when it goes after his estimation.

"The people need groups again. They've had enough of some producers who feature somebody. We work with this classic model: verse, chorus, verse and so on. And we build the music around the singing. Many have the music first and then think: 'Maybe we should let somebody sing to it...' That's not the same with us. It's a closed circulation".
Despite all euphoria, which rules over the new song ideas in the camp of Ace Of Base, all the participants are aware that a panic action wouldn't do good for the band. Fans and critics expect quality of the four Swedes. Jonas doesn't fool himself and confesses: "Yes, we are under big pressure. Everybody wants to give me tips and says how to do it". Jenny is more unconcerned: "We just do our best. We don't have a choice. If the people like it, good, if not, at least we gave our best. It is very difficult to find out who it would be good to work with together and who is just a 'wannabe', who wants to earn with our success - we don't have that much space anymore... We are four musicians and we have to stick to our own ideas". The least concern of Ace Of Base is that their ideas stay away. Slowly but for sure, the successful quartet developes to a good working hit fabric. "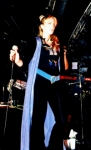 There are still a lot of good ideas in the computer", tells Jonas. "After all, we worked like crazy for one and a half years. We could open a shop with it". We don't have a choice. If the people like it, good, if not, at least we gave our best. It is very difficult to find out who it would be good to work with together and who is just a 'wannabe', who wants to earn with our success - we don't have that much space anymore... We are four musicians and we have to stick to our own ideas". The least concern of Ace Of Base is that their ideas stay away. Slowly but for sure, the successful quartet developes to a good working hit fabric. "There are still a lot of good ideas in the computer", tells Jonas. "After all, we worked like crazy for one and a half years. We could open a shop with it".

A good outlook for a rosy future with a bunch of hits and supersongs from the Gothenburger idea-fabric.

* Click on the pix to enlarge them